Take 5
Pronunciation – famous.
A ted talk on Joy with full transcript and vocabulary notes.
Idiom – as cool as a cucumber.
Recommended reading – French words used in English, from Next Step English.
And the answers to the Blue Skies gap fill from the last article.
What does 'take five' mean?
It is actually very simple – Take five literally means take five minutes break or rest.
It is also a great piece of music by Dave Brubeck which listening to it is like taking a break!  Click here to listen to it on YouTube. It won't help your English but it might make you feel happy and like dancing a bit this morning!
Pronunciation – famous
Are you saying this word correctly? I used to think it was an easy word fo learners but have found many students who get confused and mispronounce it. Watch my YouTube video to check if you are saying right and to practice repeating after me some phrases with famous in them.
Click here to watch my video on YouTube!
Looking for joy, a Tedtalk with full vocabulary notes on the transcript to learn from.
This is an interesting and enjoyable talk. Ingrid talks very clearly. I have gone through the transcript and put vocabulary notes on things which I think are more difficult. On Tedtalks there are always subtitles available if you want.
Try watching without any help first and decide if the things she says and shows in the pictures bring you joy (a moment of happiness) too!
Second time watching you can read the transcript with my vocabulary notes and pictures.
If you are reading this not on the original web page I recommend you Click here and see the activity and video on the same screen in my original article.This activity is easier to do (listen at the same time as reading my modified transcript) on my web page.
Click here to go to the talk on tedtalks web page.
Here are my adapted transcripts. It looks a long but the talk is quite short.
Do ice creams with sprinkles, fireworks and confetti make you happy and joyful?
Idiom – As cool as a cucumber 🥒 
Have you ever heard this idiom? Do you know what it means? Have a look at the picture and definition. Do you know anyone who is as cool as a cucumber? 
Recommended Reading from Next-step English!
It is all about words that we use in English which are French. There are great definitions too!
Click here to visit the Next Step English article
I also recommend you have a look at her twitter account which has lots of information and quizzes. Click on the image or Here to go visit on twitter!
The answer 🔑 key to the Blue Skies gap fill activity from the last article
How did you do?
If you missed the activity and want to try it click here!
No quiz this week!
Have a great weekend and a lovely week!
hugs,
Kim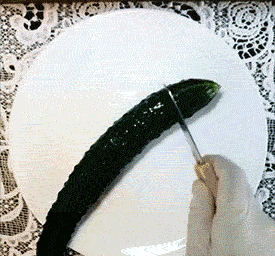 ---
---